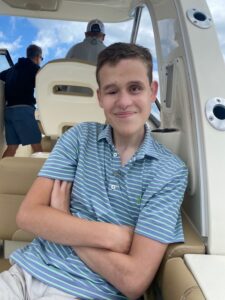 We feel so fortunate that Big Wave will be Sawyer's future home. At Big Wave, Sawyer will be able to live among residents of all different backgrounds, abilities, and ages in an environment that fosters social interaction, community involvement, and personal development. Most of all, Sawyer will have friends and a community of his own.
Sawyer is working on his skills now to prepare for all of the opportunities Big Wave will offer … helping at the farm, working in food services, and maybe even a future job in one of the commercial spaces at Big Wave.
Although Sawyer is lucky enough to call Big Wave his future home, there are many people who are less fortunate. Recently, a study estimated that well over two million people with disabilities reside in homeless shelters, public institutions, other unsafe and overcrowded situations, or live at home with aging parents simply due to a lack of affordable housing. Big Wave has a mission to help these need-based families, and our family wants to help as well. 
Thank you so much for your support!
To donate use form below or mail checks to: The Big Wave Project, P.O. Box 1901, El Granada, CA  94018
Please come back often to see pictures as we go vertical!
Big Wave is a 501(c)(3) nonprofit organization with the mission of providing affordable housing, meaningful employment, and a sense of community to adults with special needs!