Big Wave Farm and Garden Vision: 
The Big Wave Farm/Garden will be a place that invites and encourages our residents to use their gifts/abilities, learn new skills and enjoy themselves.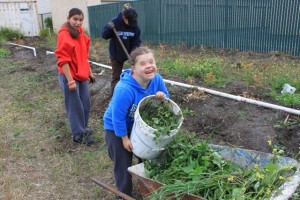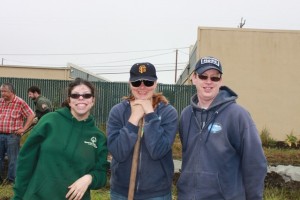 Big Wave Farm and Garden aim:
Develop, maintain and improve a sustainable, year-around, food production system that will supply the daily requirement of fresh fruit, salad greens, vegetables and eggs for our residents and kitchen.

Residents learn how to grow their food and raise eggs in an organic and sustainable manner using the Square Foot Gardening method.

Develop farm-related micro-businesses that will provide employment opportunities for our residents.

Create, develop, maintain and improve a place and opportunity for our residents to experience 'Community', 'Discovery', 'Wonder', 'Learning' and 'Nature Encounters'.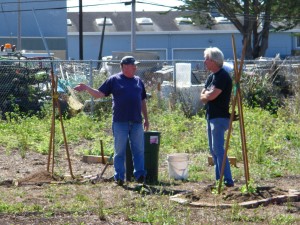 Actions to meet aim:
Use of the Square Foot Gardening Method of sustainable food production.

Organic methods, fertilizers not required.  (About 1/3 of soil mix is compost which is rich in organic nutrients)

Simple system. Each 1 foot by 1 foot square can be used for a distinct 'crop'.

Soil Conservation (Employs non-renewable peat moss, vermiculite) and Big Wavegrown compost.

Land conservation (Square Foot Gardening method requires 80% less space than traditional row crop method)

Water conservation (Since 80% less space is used, water too is conserved.  The nature of vermiculite and peat is that that they both retain water well. )

Adaptation and utilization of the 'Square Foot Gardening' curriculum to train in food production.

Big Wave will research and start-up viable, funded, revenue generating, farm-related businesses which will provide employment opportunities for our residents.

Inclusion of 'Garden Encounter' and/or 'Community' building activities and/or discussion during Farm Days and Farm activities. Design of Farm/Garden to include spaces for this purpose. 
 Facts:
The microclimate at Big Wave provides the ability to grow a full spectrum of fruits and vegetables necessary to satisfy both the daily nutritional and caloric requirement for most, if not all residents. 

Cost of Farm/Garden production is minimized by the use of donated land (Big Wave LLC) and an ample aquifer.
Beginnings
In 2011, Big Wave decided to farm a small plot on its property.  The intent was to learn how to grow fruit and vegetables in a sustainable manner for the eventual Big Wave residential facility.  The residential plan calls for at least a 5 acre parcel available for farming and egg production.
Traditional rows were tilled and planted with blueberries, blackberries and vegetables.  The team was encouraged by the fact that there was a plentiful source of water, rich soil with a high volume aquifer and well.
Challenges
It soon became apparent that it would be difficult to deliver sustainable production using the row crop method.  We discovered that weed control would be a constant challenge for our residents going forward. Production was curtailed until another solution could be found.
As the Farm was being transformed into a 'Community' space, it became more difficult to use traditional farming methods of maintenance. 
Discoveries
In the spring of 2013, a Big Wave community member used the Square Foot Gardening method in their back yard with terrific results.  After some discussion with Jeff and Kathy A., it was decided to use the Square Foot Gardening method on a small scale.  Nine Square Foot Gardens were built, and in August of 2013, two 4 by 8 foot elevated beds were installed.   
Today
The Square Foot Gardening method is the primary food production system in use.

The current Farm structure supports, raised-bed, container, vertical and row types of growing fruit and vegetables.

The farm hosts 2 regular adult day programs that visit 5 days a week to learn about growing produce and practice job skills. The farm also hosts visitors from other adult day programs, elementary schools, San Francisco State Univsersity and other companies including Visa, TechSoup and Stanford Alumni Association.

Second and fourth Saturdays of the month farm days aimed at maintaining and improving farm.   Projects have included: building (2) horse shoe pits, 3 bin composting structure, planting planter barrels, constructing pea tee pees, painting chicken coop etc.

Continuing Education through:  Garden for the Environment SF, Pie Ranch, CRAFT (small farmer education), Square Foot Gardening Certification. Santa Cruz Community Foundation:  Grant Writing, How to Use Foundation Directory, Crowd funding etc.
Encourage potential residents to attend Farm Day and other Big Wave activities.

Participate at Farm Days as a family.

Volunteer to serve on Farm and Garden leadership team.

Donate time and/or financial resources to fund the farm/garden.

Follow Big Wave Project on Facebook!  https://www.facebook.com/BigWaveProject/